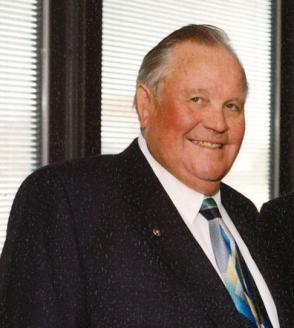 Lesson One. Rupert received many awards and recognitions including, The Spirit of Giving Award. This award was given by the Association of Lutheran Development Executives (ALDE). Each ALDE Chapter had the opportunity, annually, to nominate a person or couple within their chapter for this award. Rupert was selected for this award by the Heartland Chapter in 2004 and was then selected by the National ALDE Organization for the National Award in 2005.
My wife Ruth and I were selected to host Rupert and Ruth at the 2005 ALDE Annual Conference in Denver, Colorado. Hosting meant transporting them to and from the airport to the conference hotel making sure any of their needs were taken care of. Ruth and I personally observed the caring and generosity of the Dunklau's, not only to us, but to everyone who served and met them during our time with them. A lesson we learned from him, because of Rupert's generosity during the trip was the way he treated all who served with respect. As a result, we personally learned a lesson of making an extra effort to tip and talk with Bellman, cleaning personnel, and others who always help make our trips and travel more comfortable.
Lesson Two. Fast forward a number of years later, after Rupert's first wife Ruth had died. They had wanted to host Ruth and me on a trip to one of Rupert's favorite cities, San Francisco, California.  Again, Rupert had arranged for a driver to meet us at the airport and the driver, with Rupert in the car, picked us up and delivered us to the hotel where we were pampered for the duration of our trip.
I especially remember that trip because, while we were in San Francisco, Rupert wanted to walk to his favorite restaurant in Chinatown. On our walk, we passed several building door entrances occupied by the homeless, drug addicts, victims of alcoholism, etc.  More than once, Rupert would stop briefly and share this statement, "there but for the Grace of God go I."
Over the following years we learned of countless ways which Rupert helped down and out individuals everywhere her went.  Rupert was a man who understood how much God had blessed him, and we saw how much he cared about his fellow human beings who had not been blessed in the same manner, by showing his love and care for them.
Lesson Three. In the year 2000, the US stock market took a 77% dive during the dot.com market adjustment. Again in 2008 the subprime mortgage market pushed the stock market to lose approximately 57% of its value.  Rupert's Foundation and personal wealth also took negative 'dives.' When I asked Rupert how he was feeling about the loss, his response was, "Lloyd, it's only a loss on paper."
I observed a man who had great trust in his Lord, and always showed that trust during good times and hard times. Another Lesson learned.
By Lloyd Probasco, Board Member